According to ancient traditions, Badri (as it is often known) is one of many pilgrimage sites in heaven, earth, and the world, yet none has ever been or will ever be on par with it. The Badrinath Temple, dedicated to Vishnu, is a major Hindu pilgrimage destination. It is one of the four most sacred sites in Hinduism, known as the Char Dham.
The Badrinath tirtha gets its name from the local term for Badri, a type of wild fruit. During his time of penance in these mountains, his wife, the goddess Laxmi, is said to have taken the form of a berry tree to protect the Hindu god Vishnu from the sun. It is the Lord's dwelling place, but it is also frequented by innumerable saints and sages who come to pray or think.
When King Ashoka ruled India, the temple of Badrinath became an important Buddhist pilgrimage site.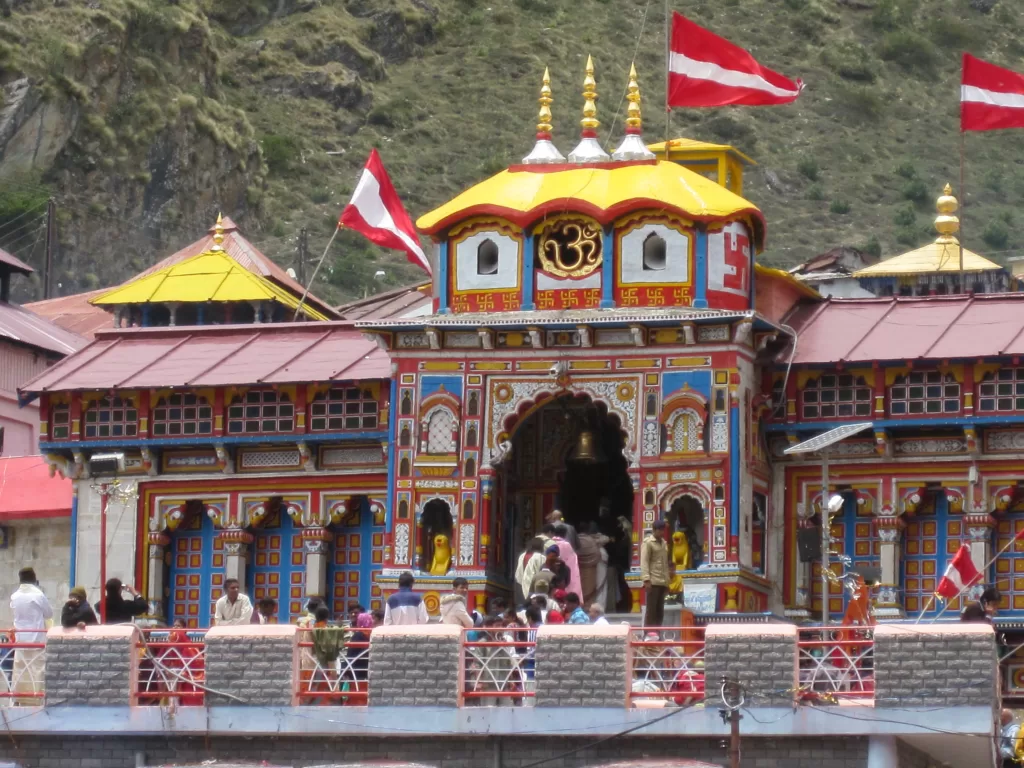 What does Skand Puran Say
Skand Puran claims that in the eighth century A.D., Adiguru Shankaracharya brought the idol of Lord Badrinath here after finding it in Narad Kund. According to the Skanda Purana, which provides more information about the place, "there are several hallowed shrines in heaven, on earth, and in hell; however, there is no shrine like Badrinath."
Adi Shri Shankaracharya is said to have rebuilt Badrinath, which is also called Badri Vishal, to bring Hinduism's honor back and bring the country together. Several different old Hindu scriptures include stories set in Badrinath. There are many stories about this holy place, such as the puranic account of the Pandav brothers and Draupadi passing by on their last pilgrimage as they climbed the slopes of a peak near Badrinath called Swargarohini, the "Ascent to Heaven," and the visits of Lord Krishna and other great sages.
Penances are done here by the sages Nara and Narayana (the fifth avatar of Lord Vishnu), according to the Vamana Purana; Kapila Muni, Gautam, and Kashyap all did penance here; Bhakta Narada found salvation here; Lord Krishna favors this area; religious scholars from the Middle Ages, such as Adi Shankaracharya, Ramanujacharya, Sri Madhavacharya, and Sri Nityananda, came here to study and meditate, and many people still do so today.
Mythology Surrounding Badrinath
Badrinath has been the subject of mythology. That was the home of Shiva and Parvati. magnificent location in the Himalayas, at about 10,000 feet in altitude. In one story, Shiva and Parvati went for a stroll. A wailing infant greeted them as they returned to their house. As Parvati watched the baby sob, her maternal instincts awoke, and she felt the urge to comfort him. "Stop touching that kid," Shiva warned her. "How cruel," Parvati remarked. Parvati though stunned by shivas action could not resist the compassion towards the child.
"I warned you, not to pick up this wicked child," Shiva commanded. You brought the kid in, and now he's shut himself in. Shiva was knowing all through about the child and the consequences of this ordeal, however he did not disclosed it to Parvati. Parvati now totally perplexed asked, "What shall we do?"
"This is not a good child," Shiva remarked. I don't understand how he ended up here by himself. No one else seems to be around; the snow bears no signs of parental footsteps. A child cannot look like this. Parvati, though, remarked, "Nothing's done!" She said, "The mother will not allow me to let the child be like this," and she brought the infant inside. The kid was as happy as could be, sitting on her lap and gazing up at Shiva with wide eyes. Although Shiva anticipated the outcome, he said, "Okay, let's see what happens."
Once the baby was fed and calmed, Parvati left him at home while she and Shiva soaked in the local hot springs. All the doors were locked from the inside when they returned. The shock on Parvati's face was palpable. Someone asks, "Who locked the door?" "I ordered you, not to pick up this child," Shiva commanded. You brought the kid in, and now he's shut himself in. It was Parvati who posed the question, "What shall we do?"
One of Shiva's choices was to set fire to everything in his path. The alternative was to simply leave and find a new route. Therefore, he suggested, "Let's travel elsewhere." I can't touch it since it's your precious child.
Because of this, Shiva was forced out of his own home, and he and Parvati were labeled as "illegal aliens." After much searching, they decided that Kedarnath was the best spot for them to call home.
Who Built the Badrinath Temple?
Adi Shankara built the temple at Badrinath, adding to the site's historical significance. He established a colony of his own people there. The Nambudiris, who are priests and whose families he set up, are still serving the temple today. This location is just stunning. In the Indian state of Kerala, in a town called Kaladi, Adi Shankara was born well over a thousand years ago.
On foot, more than three thousand kilometers separate Kaladi and Badrinath. Adi Shankara traveled such great distances on foot, not just from south to north but also from east to west. He made three trips across the country and one across the continent on foot.
Arriving in the Himalayas with a specific goal in mind is not the point. To be diminished, if not dissolved, was the goal here.
Although much of the city is in disrepair, its natural setting is stunning. It's possible that the 25 kilometers from Govind Ghat to Badri are the most breathtaking you'll ever experience. The mountains along this 25-kilometer trip are unlike any I have seen in my travels, and I have seen a lot.
The location of Badrinath Temple
The shrine of Badrinath is in the Garhwal hills, which are a part of the Himalayas. It is surrounded by the Nar and Narayana mountains and the Alakananda River. The temple has been there for more than hundreds of years the exact age is however not known. It is 3133 meters above sea level and is one of the holiest places in India. Travelers on theological missions from all over the world, not just India, honor Goddess Ganga's arrival on Earth, as told in Hindu mythology.
The festival is always held in September and is celebrated with considerable enthusiasm. Thousands of worshippers attend the festival and associated pujas each year. The temple grounds will play host to a massive fair. Both natives and believers take part in the celebrations.
Badrinath is also the site of festivities commemorating Janmashtami, the day Krishna was born. There is a lot of revelry and dedication at the festival.
The Hot Spring of Tapt Kund
There are several hot springs right next to the temple at Badrinath, and no trip there would be complete without soaking in one of them. The hot springs, known as the Narad Kund and the Suraj Kund, are genuine natural marvels. It's almost as if God himself planned for his worshippers to be washed clean before entering his holy temple.
In a region where average temperatures are around 17 degrees Celsius, these sulfur springs keep things toasty at a steady 55 degrees. During the winter months, temperatures might drop below zero. Many of these celebrations are provided for pilgrims throughout the whole Char Dham Yatra.
Badrinath, Nepal, and the Himalayan Spiritual Path
Visitors visiting the Himalayas often express astonishment at the idea that people ever managed to walk across the region. Just try to imagine the work that would have to be done. Arriving in the Himalayas with a specific goal in mind is not the point. To be diminished, if not dissolved, was the goal here.
It's hard to believe that people ventured into these mountains thousands of years ago before there were any highways, cars, or charts showing where one peak ends and another begins. I'm on my way. as a prerequisite for further development along the yoga path. Since you can't see the finish line, you might as well keep going. "I don't care where it starts or where it finishes; I just keep going till I get there." The spiritual path is not an option for someone who lacks this mentality and inner power.
Pilgrims must go on a dangerous trek over the Himalayas in order to reach this holy site. There is a little cupola in the shape of a gilded bull atop the spire at the Badrinath Temple. Several stories say that they began in the Vedic period, but Guru Adi Shankaracharya, who lived in the 9th century, is often credited with starting the tradition.
The Badrinath Temple's Stunning Construction
The architecture of the Badrinath temple is typical of that found in North India. The walls and pillars of the stone temple are intricately carved. Sabha Mandap (the assembly hall where devotees gather), Darshan Mandap (the hall where Pooja to the idol is held), and Garbhagriha (the holy abode) are all connected by a grand arched entranceway (sanctum sanatorium).
The Garbha Griha has a conical spire that rises 15 meters into the air and is capped with a gold-plated dome. Badrinarayan is made of black stone and stands a full meter tall. He holds a conch in one hand and a chakra in the other as he watches over the holiest place in Hinduism. Vishnu is sitting in Padmasana, a meditative position, with his hands in his lap. Sage Narada is also there, this time accompanied by his wife, Lakshmi. The temple is completed by Kubera on one side and Nar Naryan and Uddhava on the other. There are also the Garuda and Navdurga birds.
It has a sanctum sanctorum (garbha grih), a puja hall (darshan mandap), and a congregational hall (sabha mandap) for worshippers. According to legend, the present building was erected by Garhwal's royal family. On the temple's idols, Lord Badrinath, who is also called Badri Vishal, is shown holding a shankh and a chakra.
The yoga mudra involves him placing his hands on his lap. The main idol is a statue of Lord Vishnu made of black stone that looks like he is meditating. The temple has shrines for Lord Narayan's chariot, the mythical bird Garuda, the sages Adi Shankaracharya, Swami Desikan, and Shri Ramanujam, and other gods.
Why you should visit Badrinath Temple
Many Hindus worship Swayambu, a statue of the god that manifests itself. Followers of Vishnu pray to him for things like material success, moral growth, physical safety, a long, healthy life, enlightenment, and a place in the afterlife. The temple complex has three separate buildings: the Garbhagriha (sanctum), the Darshan Mandap (worship hall), and the Sabha Mandap (main hall) (common hall).
In the Garbhagriha (sanctum), Lord Badari Narayan, Kuber (the god of wealth), Sage Narad, and Udhava, who is a friend of Lord Krishna, all live. The celestial twins Nar and Narayan, who are worshipped there, are thought to be an incarnation of Vishnu.
Those born in Dhanu, Simha, or Mesh Rashi are expected to make a pilgrimage there at least once in their lifetime. Many Hindus make the journey to the temple to pay their respects to the dead. It is thought that visiting Badrinath and taking a holy dip in the Alaknanda River will cleanse one's soul.
How to reach Badrinath?
The closest airport to Badrinath is Jolly Grant Airport, which is located 314 kilometers away. There are regular flights to Delhi, and the Badrinath Temple is accessible by road from there. From the airport to Badrinath, taxis can be taken.
The nearest train station in Rishikesh is 295 kilometers away in Badrinath. Many trains stop in Rishikesh, and from there, you can take a taxi or a bus to Badrinath.
From Uttarakhand's major cities like Dehradun, Haridwar, Rishikesh, Srinagar, Chamoli, etc., buses and taxis make it simple to reach Badrinath.
Disclaimer: The author's views are his or her own. The facts and opinions in the article have been taken from various articles and political commentaries available in the online media and Eastside Writers does not take any responsibility or obligation for them.
Note: Contact our Writers at www.eastsidewriters.com for writing Blogs/Articles on any niche. We have experts in various domains from Technology to Finance and from Spirituality to Lifestyle and Entertainment.