Every jewelry ornament has a unique story to tell. It is a long journey from a mine to the hands of consumers. Not only do ornaments tell us their story, but they also give us a memorable experience. It can be a lovely wedding, a memorable engagement party, or a special occasion that you and your spouse remember. A crucial step in the procedure is picking out the appropriate jewelry.
But picking the right one from among them is the most important part of buying and wearing an ornament. The correct jewelry can make a huge difference to a woman's look and attitude, whether it be something as simple as a set of pearl studs or as magnificent as a ruby-studded gold choker.
The majority of us ladies played with the jewelry in our mother's jewelry box for years because we were mesmerized by the sparkling crystals. We stacked bangles on our wrists until they were double the size of our wrists. But now that many of us are of an age to begin our own glittering jewelry collections, it only makes sense to be curious about our tastes and what the latest runway trends are.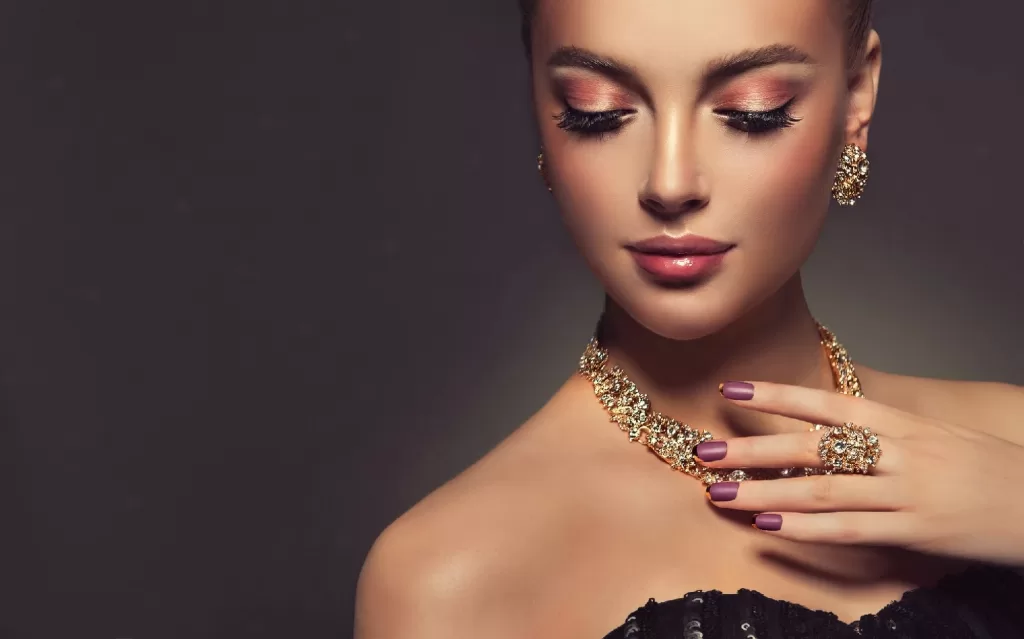 Let us walk you through the biggest jewelry trends to anticipate in 2023 so you can understand what the new trends demand and choose the ornaments that are well invested in.
Why are trends in your jewelry important?
Jewelry is important since wearing it not only makes one look more beautiful on the outside, but it also makes a clear attempt to reveal you're true identity. Some of the divas prefer big ornamentation, while others prefer more trendy, streamlined patterns. Some people decide on a beautiful necklace, while others adorn themselves with a variety of stackable rings! All of this ultimately depends on each of you and how you view them when you wear these accessories. Therefore, wearing the appropriate jewelry is definitely more of a charm than a necessity.
Regular Jewelry
The phrase "everyday jewelry" is so pervasive in the fashion world that it is hard to avoid. We no longer only wear decorations on special occasions. Instead, we wear them every day. Some factors to take into account when choosing everyday jewelry
1. Easy and welcoming
The wearable should enhance rather than hinder our daily lives. It could be anything, like a beautiful ring, a beautiful pendant, beautiful earrings, nose pins, bangles, or bracelets. Is it acceptable to wear two or more accessories? Is it healthy to wear an ornament on your body all day? are some of the frequently asked questions on the same topic on the internet. The answer is that there is indeed a limit! It is better to have more pieces. A jewelry box should always be prepared to save the day because it is like an "accessories kit" that requires constant construction and upgrading.
2. Manner and Tone
Everyone has a comfort level when wearing jewelry, as was already established. Your personal style, appearance, lifestyle, and most importantly, the mood you're in, all influence these things. All of this affects how you choose your jewelry.
Sentimental: Some people have a strong emotional attachment to certain pieces of jewelry, such as a ring their fiancé would have given them, a bracelet their dad gave them, or a necklace their grandmother wore.
As a famous saying goes "Jewelry is a representation of affection. A pledge to stand by your side constantly."
Coordination: We should let the jewelry take center stage and make a statement with our clothing! Your distinctive piece may be a necklace, a pair of earrings, a bangle, or even a watch. Even better, you can coordinate the watch with the necklace. Just be careful not to go overboard. Make sure to buy plenty of striking pieces so you can mix and match them with all of your go-to daytime ensembles.
3. Follow the fashion
You could have the look that you have always dreamed of by staying current with fashion trends. You can stay current on trends by reading online publications like Cosmopolitan, Vogue, and InStyle, as well as the many number-one fashion magazines that are available over the Internet.
4. Should be pocket friendly
Think about the budget you would have. Therefore, pick an internet retailer that fits your criteria for affordability. Almost all well-known jewelry brands have an online presence. Consequently, it is simple to locate a store. Amazon. in is the best online. They possess the most exquisite jewelry, and guess what? They are incredibly inexpensive to purchase. Spending money on someone you care about is a genuine act of love, not an investment.
Lets now dive straight into the Recent Trends
Dazzling Rings
Fashionable Stackable Rings
They are rings that stack one ring on top of another, usually on a finger. The way they are stacked gives that specific finger a beautiful appearance. When it comes to stacking rings, there are no rules. Everything depends on how you feel and how comfortable you are wearing them.
The fourth finger on your left hand is said to have a vein that leads directly to your heart, according to an old wives' tale. This is the precise reason that stacking rings on that finger, which stand for engagement, marriage, and motherhood, is a ritual in several nations.
Diamonds and rubies would make another stylish pairing, while sapphire and diamonds might be used in one ring and gemstones in the other.
Trendy Cocktail Rings
This garment is special since it may draw attention to itself, rendering the rest of the jewelry quiet. It might look fantastic on your girlfriend's finger and draw all the admiration she deserves! The cool yet bold effects that are well-pronounced cannot be missed. It speaks volumes about the latest choice that you have inbuilt in you.
Personalized Solitaire Rings
Women can "dress up" a solitaire ring with enhancer rings or a more elaborate wedding band thanks to the classic appeal of these types of bands. You might also highlight the diamond.
throughout the layout. More often than not, these styles are chosen for engagements and weddings because they make a lasting impression on the wearer and add a little sparkle to the party atmosphere.
Striking Necklaces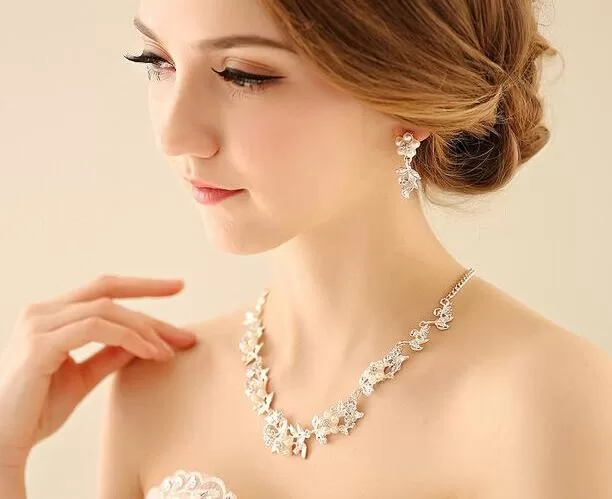 The right necklace does more than just make an outfit look more stylish; it also changes the neckline in a big way. Wrap necklaces and pendants in the style of a lariat are more popular now because they are both stylish and very bold. A magnificent appearance is achieved by striking a balance between opulence and minimalism.
Earrings – Airy & Light
India has always wanted lightweight jewelry, which is clear from the most recent collections of most brands. Wedding party members like delicate jewelry that they may wear every day. The Chand Bali earring is a beautiful example. The style has been customized to meet the preferences and needs of contemporary ladies. Its resemblance to the form of the moon gave rise to its name.
Chandbalis in the shape of the moon is highly fashionable. It only takes a pair of substantial chandbalis to make you sparkle at your engagement or reception. All traditional Indian clothing, including sarees, lehengas, and salwar suits, go nicely with it.
Earrings made with gemstones like sapphire, ruby, and emerald are thought to be trendy. We can say without a doubt that brightly colored diamonds are all the rage in the new millennium. This year, the most popular jewelry styles have been embellished earrings with lots of different colors. Both simple and fancy styles have been popular.
Stylish Indian Jewelry
1. Kanti Necklace
Nearly 5000 years ago, Indian jewelry became popular. The traditional necklaces were originally made of ivory, then copper, then gold, and now diamonds. Antique jewelry stands out because it has symmetrical patterns and a clear line of development.
Kanti Necklaces are an excellent example of this. They resemble chokers, which are now popular. In Rajasthan, it is also referred to as "Hasli."
2. Old-fashioned temple jewelry
People are willing to do anything to get that regal image, so giving temple jewelry an antique finish is the newest trend! The heavy jewelry is mostly made of gold and features red and green precious stones. Many of them are composed of intricate parts and include huge patterns of gods. When worn with a Kanjeevaram saree, they appear majestic. Such kinds of ornaments come from the royal Chola monarchy, where they were worn by queens and kings to participate in history!
3. Peacock Jhumkas
The old Tamil jewelry industry was the source of the beautiful craftsmanship used to make peacock earrings. Back in the day, when royal families ruled the country, this seductive look was well-known among them. Peacock Jhumka ornaments are examples of artificial jewelry. The ones made of gold, however, not only continue to shine for decades but also improve in regal appearance and quality. When worn every day, enamel peacock earrings require specific maintenance.
The most durable and attractive earrings for harsh use are silver peacocks. Peacock earrings made of white silver are another classy accessory that some people like to wear. Diamond peacock earrings stand out among other types of peacock earrings because they demand an extraordinary level of skill and expertise to create delicate and intricate designs and fix such expensive stones. They have a royal exterior and an excellent interior.
4. Wedding Accessories
Symbols of wealth, prosperity, grandeur, strength, well-being, solidarity, virtue, passion, and valor can be found in bridal decorations. Men and women both wear it. Today, jewelry is highly sought-after, and significant pieces like the bridal set have turned into collector's items.
The bride is covered in them from head to waist. the head chain, karapati throatlet, agasti necklace, Gedi bangles, and hawadiya (hip chain). are a few examples of these in-vogue accessories (hip chains).
It's never too late to own the newest jewelry styles. If you are just beginning with your own priceless collection, it is wise to make an investment in a few straightforward items of trendy jewelry. You can wear them to parties, work, home, and when you're partying with pals.
Diamond Sets
The best companion for a girl is a diamond. A diamond is distinctive and a must-have for the ladies because of its exceptional brilliance, which sets it apart from other colored stones and crystals. Did you know that there are several colors of diamonds? White diamonds are all too common, but pink, yellow, and many other colors are the most unique. They are very rare and very expensive, so the average person probably won't be able to afford them. Amazingly, scientists have discovered a way to turn coal into diamonds.
Without a certain something, you wouldn't be wowed if you saw a diamond right after it was unearthed. A diamond's appeal stems from the skilled craftsmanship that goes into cutting it to perfection.
Cut diamonds and uncut diamonds are two different types of diamonds. Uncut diamonds are great for big bridal necklaces because they glow softly and aren't as bright. When rubies and emeralds are added to uncut diamonds, they look great with lehengas and sarees.
There are many different kinds of classic cut diamonds, such as princess cuts, which are beautiful rectangles; pear cuts, which are shaped like teardrops and are often used to make earrings; oval cuts; marquise cuts; cushion cuts; and many more. Most diamond engagement rings have the traditional round cut, but pendants can have less common shapes like heart or even pear cuts.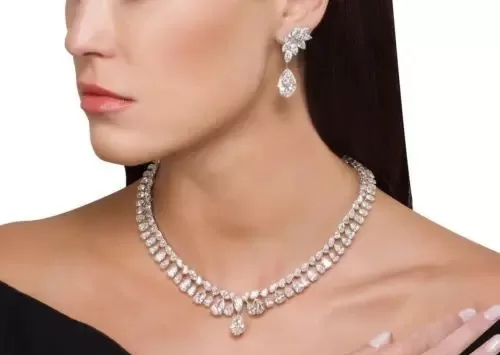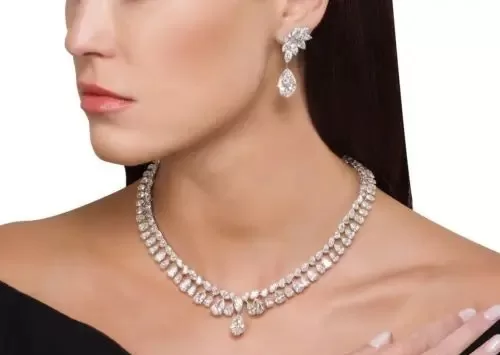 6. Going Platinum
Most of us tend to stick with gold or silver when it comes to exquisite jewelry. It's time to add platinum to our list of jewelry metals as a similar option. Our choice of metal is influenced by two factors: luxury and toughness. Platinum satisfies both of these criteria and is pure, rare, and more useful than other metals.
Platinum is the best of the best and is often called "rich man's gold." It should be in your jewelry collection. Not yet persuaded? Here are a few more details about platinum that can aid you in making the best choice.
Platinum is one of the rarest and richest metals on the planet. It is actually more uncommon than gold. Platinum is more difficult to obtain than gold since its extraction requires more work. Even a single item of platinum jewelry in your jewelry box will be a priceless and unique find. Your engagement or wedding will be even more memorable if you choose platinum.
Platinum is more durable than other metals due to its density. Even after many years of use, it retains its sheen, color, and shape. Because this metal is strong and heavy, it will hold your valuable stones in place firmly and securely. Platinum is also beautiful to look at because of how bright and smooth it is.
Being hypoallergenic, with platinum there are no skin sensitivities or rashes brought on by it. Because of this, it is the best option for people with sensitive skin. Jewelry made of this metal, whether rings, earrings, or pendants, is excellent for everyday wear.
Platinum jewelry requires very little maintenance. It takes a lot less maintenance than other metals and will last for many years. All it takes to keep your platinum jewelry looking wonderful is a simple steam or wash. The most widely used metal for wedding and engagement rings is platinum. Its white shine brings out the sparkle and brilliance of diamonds and other jewels. Jewelry made of platinum is usually a wise investment because it is both gorgeous and strong.
Disclaimer:
This information is for knowledge and educational purposes only, and no legal advice should be inferred from it. The author's views are his or her own. The facts and opinions in the article have been taken from various articles and commentaries available in the online media and Eastside Writers does not take any responsibility or obligation for them. For any medical c take advice from doctors and consultants.
Note: Contact our Writers at www.eastsidewriters.com for writing Blogs/Articles on any niche. We have experts in various domains from Technology to Finance and from Spirituality to Lifestyle and Entertainment.