To Run Facebook Ads for Restaurants is an important business trait to increase business revenue and earnings. One of my favourite topics to write about! I enjoy eating out at restaurants because I enjoy food. That is why writing about the restaurant industry is so enjoyable for me because it allows me to combine two of my favourite topics: food and marketing.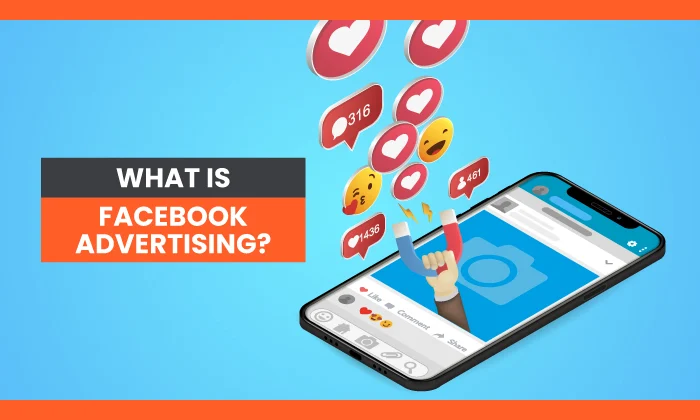 There are numerous benefits and drawbacks to working as a marketer in a popular industry such as the restaurant industry. Yes, marketing an industry that people are naturally drawn to is "easy," but the most difficult challenge restaurant marketers face is the insane level of competition.
Everyone needs to eat, so why should they choose your restaurant over the one down the street, or the one in a more scenic location, or the one in a lower price range? The most difficult challenge for marketers is to stand out in the face of so much competition.
How the restaurant industry operated twenty-five or even ten years ago is vastly different from how it operates today. The transformation is enormous. To keep up with the more developed, better-equipped, and technologically advanced world, the restaurant industry has evolved as well. This transition was noticeable in the marketing spectrum.
Long gone are the days when restaurant marketers could place an ad in the local paper, distribute some mouth-watering food flyers around town, and expect word-of-mouth to bring in new customers. Restaurant marketers must now have a strong social strategy in place in order to keep the orders coming in. Below I have detailed 11 tips for generating the most reservations and revenue from Facebook ads for restaurants.
Local Press Advertisement
Long gone are the days when restaurant marketers could place an ad in the local paper, distribute some mouth-watering food flyers around town, and expect word-of-mouth to bring in new customers. Restaurant marketers must now have a strong social strategy in place in order to keep the orders coming in.
Restaurants no longer limit themselves to traditional modes of offline marketing; they have already made a significant impact on online platforms, particularly Facebook. However, it was realized that simply posting pictures and videos on Facebook was insufficient and that running paid restaurant ads or marketing on Facebook became a necessity.
Here are 11 tips for getting the most reservations and revenue from Facebook ads for restaurants:
Make use of location targeting.
Choose people who are most likely to dine with you.
Increase your reach by targeting audiences who are similar to you.
Atmosphere can entice customers.
Spread the word about your good press.
Entice new customers with enjoyable free events.
Show off your team's abilities and make plans for seasonal increases.
Make use of ad scheduling.
Discuss your one-of-a-kind dining experience.
Show off your satisfied customers.
But first, why is Facebook so popular?
So, why is Facebook the go-to platform for restaurant marketers? Facebook is a popular place for people to learn about new things, such as restaurants! In fact, 49 per cent of people use Facebook to locate new restaurants.
Why limit yourself to Facebook?
You may be wondering why we are focusing solely on Facebook marketing when there are so many other social media platforms available. But don't we all recognise Facebook's enormous impact on our daily lives? If you are unaware, we hope that the statistics from the Facebook Quarterly Report will assist you in gaining a more complete understanding.
Daily active users (DAUs)– DAUs were 1.40 billion on average in December 2017, a 14 percent increase year over year.
Monthly active users (MAUs)- MAUs were 2.13 billion as of December 31st, 2017, a 14 percent increase year on year.
Facebook users spend 50 minutes per day on the site.
Considering the audience that Facebook attracts, it is clear that marketing your restaurant on Facebook will help you attract a large number of customers flocking in the market. Is that, however, sufficient? No! Simply posting photos and videos isn't enough; you should also consider running paid restaurant ads on Facebook.
Fb Advertisement is Insxpensive
Furthermore, not only is Facebook marketing inexpensive but it is also thought to be superior to most other forms of direct advertising. This is due to the fact that restaurant ads on Facebook are highly targeted; you can customise your ads so that they appear not only on your fans' Facebook Newsfeeds but also to a broader network of people in your area. Are you perplexed about how to proceed? Please don't be! We are here to assist you!
It's pretty amazing that people are now using Facebook for restaurant discovery, similar to Yelp. On top of that, there are Facebook users going about their business who also happen to need to make a reservation for their friends who are visiting town on Saturday. Then there's your advertisement, showcasing your sizzling fajita special, juicy hand-packed burgers, or unforgettable homemade brownie sundae. Oh, and there's a CTA enticing this individual to make a simple online reservation. Who could possibly say no to that?
Don't worry if you're new to Facebook advertising or want to take your restaurant marketing to the next level; we've got you covered. Here are 11 Facebook ad tips to help you get more customers into your restaurant.
Tips for Running Paid Restaurant Ads on Facebook
For most restaurant owners, investing in paid restaurant ads on Facebook is not a viable option. However, if your restaurant is experiencing consistent growth, if you have a long line in front of your restaurant, and an oozing cash register, it is recommended that you invest in advertising. If you have the financial means and the desire to make your restaurant the best in the market, running paid restaurant ads can be a great way to make your dream a reality.
Simply follow the steps outlined below to seamlessly run restaurant ads on Facebook:
Creating a Facebook Page for your restaurant is the first step toward running paid restaurant ads. This page should be carefully optimised and stuffed with all of the necessary keywords and basic information about your restaurant.
Visit www.facebook.com/ads/create after you've signed in to your Facebook profile.
Click the Create Your Campaign option on this landing page.
You must choose your campaign form when creating your paid restaurant ad on Facebook.
Landing page of Facebook
When you arrive at this landing page, Facebook will ask you what you expect to achieve or what your target is from the restaurant ads on Facebook.
Explain your campaign's goal in simple terms. Simply put, you must be able to communicate what you want your customers to know or do. Let them know if you want them to visit your website or if you want them to know about the new theme night you're planning. A campaign editor will also include various buttons. Simply include these in your campaign to direct Facebook users.
You can also use restaurant advertisements to promote brand awareness or to highlight special events or deals. Facebook generates a headline for you automatically in an attempt to make your life easier. However, you can try to be creative with the title of your campaign in order to make it as appealing as possible.
It is also important for you to understand that the title will only be used for internal purposes and will not be seen by customers. When running restaurant ads on Facebook, you have a plethora of targeting options. In this step, you must decide who you want to target. You can also target using a custom audience, which includes options such as your website visitors, email list, and much more.
As a result, restaurant ads on Facebook allow you to select who will see your marketing efforts in their news feed. You will be able to reach out to all of the best or most relevant customers, who you will be able to easily convert into actual customers. Choose who should see your restaurant's Facebook ads.
1. Make use of location targeting.
Before you begin developing your restaurant marketing strategy's ad creative, you must first configure your targeting options to ensure that your ads are shown to the right people. You don't want to pay to show ads for your New York City restaurant to people in Portland, Oregon, for example.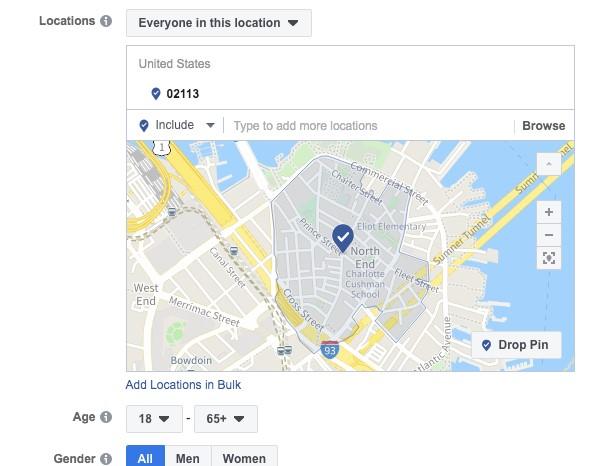 As a result, the first step is to configure location targeting. Fortunately, Facebook makes this very simple. You can do this by entering your restaurant's zip code into Facebook's Ad Manager platform. You may want to include some nearby zip codes to ensure that you are covering areas where people are likely to travel to dine at your delicious location!
This refers to where you want your targeted audience to see your restaurant advertisements. Making certain that your target audience sees your restaurant ads in the right places.
When you reach this stage, Facebook will ask you how long you want your ads to run for and how much money you have in total.
Just keep in mind that the more money you spend, the more people will see your advertisements. Following that, Facebook will ask you to enter your "bid amount," which is a technical term for how much you are willing to pay for your ads. Again, experiment or seek advice from an expert.
Make it a point to clearly state how long you intend to run your ad and how much money you intend to spend.
Choose your format well
Choose the format in which you want your restaurant advertisements to appear.
The design of your restaurant ads on Facebook can help you attract customers. Images are extremely important and must be given special consideration. 1200628 pixels is the standard image size.
However, keep in mind that using too much text on the images may result in your ad being rejected by Facebook. They've also set a text-to-image ratio of 20%. For each ad, you can upload a maximum of six images.
Experiment with different images to see how they interact with your text. Get rid of the underperformers. Keep in mind that simple Facebook ads are good bets. If necessary, seek the assistance of a professional.
Once you've created well-designed restaurant ads, all you have to do is enter your payment information, sit back, and watch the power of Facebook marketing boost your bottom line.
A step-by-step guide to creating your paid restaurant ad on Facebook.
The influence of paid restaurant ads on Facebook is enormous. You simply need to strategically place your restaurant advertisements and watch how they attract customers and even convert them into actual customers.
2. Target people who are most likely to dine.
Location targeting is a great place to start when developing an ad campaign strategy, but don't stop there! The ridiculously specific level of detailed targeting options available on Facebook is one of the main advantages of using it as a platform for advertising your restaurant. There are three categories under "Detailed Targeting": Demographics, Interests, and Behaviors, each with several sub-categories. I recommend thinking about your target diner and researching your options.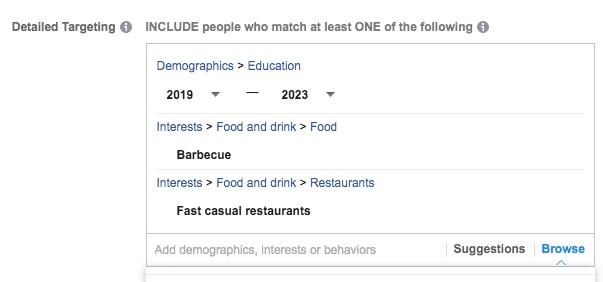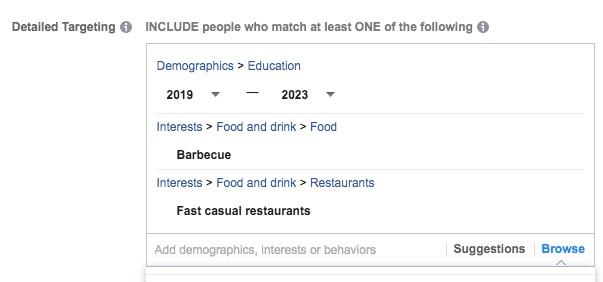 Assume you own a barbecue restaurant in Nashville that caters to local college students. There is a "Food and Drink" category under "Interests" where you can target those interested in "Fast-casual restaurants" and "Barbecue." You can then combine that with demographic targeting of students currently enrolled in undergraduate school between 2019 and 2023. Isn't that cool?
3. Extend your reach by targeting audiences.
Have you already created a Facebook audience that has performed admirably? Or perhaps you have a devoted following from your website? Facebook has a great feature called "Lookalike Audience" that can help you expand your reach even further.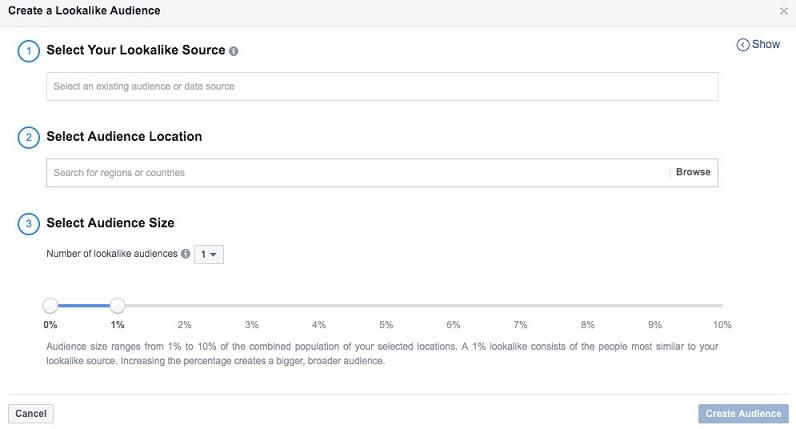 "If you have an email list of 1,000 or more from your existing customer base, you can upload that list into Facebook to target them directly and/or create a lookalike audience of them," according to LYFE Marketing.
"It's exactly what it sounds like: a lookalike audience. It's a crowd that resembles the original audience. So, if you upload 1,000 or more emails and tell Facebook, "This is how my customer base looks," Find more people who look like my customers,' says a Facebook lookalike audience."
4. Use atmosphere to entice customers.
Did you know that 25% of new restaurants fail within their first year? According to a Coyle Hospitality Group study, one of the most important factors in deciding where to eat is the atmosphere.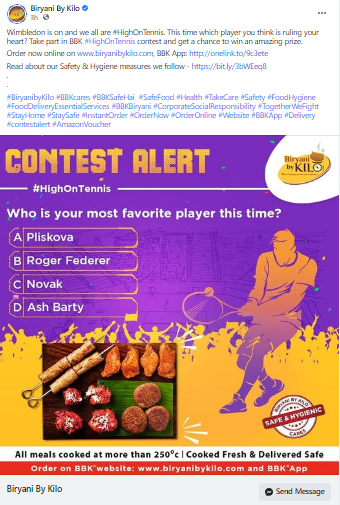 "The study's findings show that diners value atmosphere so much that a negative atmosphere makes them less likely to recommend the restaurant as a whole, regardless of how positively they reacted to the food, staff, and service," says ShopKeep.
So, as a restaurant marketer, what does this tell you? It not only informs you of the importance of creating a fantastic atmosphere but also of the importance of flaunting your atmosphere to entice new diners. Consider the following example from Lolita Cocina & Tequila Bar. Rather than focusing on the food in every post, Lolita uses this Facebook ad to highlight its sexy space with some enticing copy.
A dark restaurant atmosphere was depicted in a Facebook ad which went quite well.
5. Spread the word about your good press.
The press is an extremely important aspect of restaurant marketing. In fact, receiving favourable press can often make or break a restaurant. As a regular listener of the Bon Appetit podcast, I've heard many stories from restaurant owners about how game-changing good press can be. Those who appear on Bon Appetit's Best New Restaurant List immediately see a significant increase in business.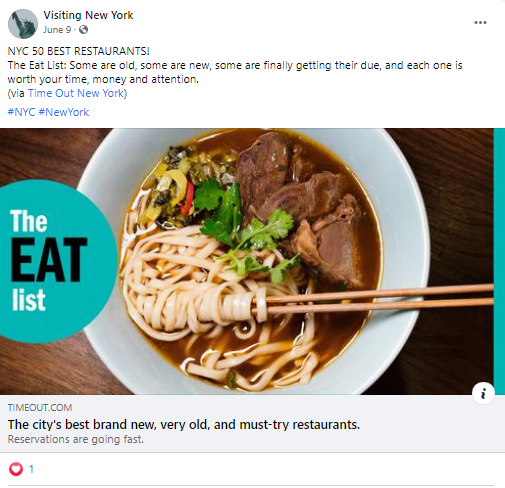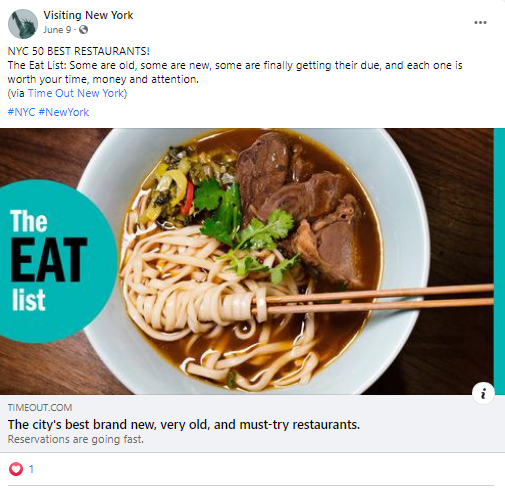 If you are one of the fortunate restaurants to receive favourable press, you must maintain that momentum for as long as humanly possible! What better way to accomplish this than through Facebook ads? When your target audience sees that some reputable publications have thoroughly enjoyed dining at your establishment, they will want to jump on the bandwagon—and make a reservation as soon as possible.
6. Organize fun free events to attract new customers.
Who doesn't enjoy freebies, parties, and food? I'd say 99.9% of the population adores all of those things wholeheartedly. I'm sure I do! Facebook ads and event marketing are a great combination, so why not plan a fun event, perhaps themed around a season or holiday, and promote it on the social platform? It's called a "social" platform for a reason: it's an excellent way for new people and customers to learn about your restaurant.
Take, for example, Row 34, one of my favourite seafood restaurants in Boston's Seaport district. This restaurant promoted a Pride event in order to bring in new and returning customers. Their strategy was straightforward: take some fun Pride-themed photos, write some colourful text, create an event ad on Facebook touting the "Free" entrance guarantee, and bring more money through the doors!
7. Show off your staff at a Facebook event.
Good service is one of the most important factors for restaurant patrons. This entails having a staff that is professional, friendly, and respectful. If your employees have a lot of personalities, why not let them show it? On Facebook, friendly personalities and smiling human faces are a great way to attract new customers.
Consider the restaurant Little Donkey in the example below. Rather than simply posting a million pictures of their delicious food (which is also appreciated! ), the restaurant occasionally shows some staff love. I adore the post below, which recognises a staff member's birthday in such an emotional and personable manner.
8. Plan for seasonal increases.
Depending on your restaurant's location, there may be specific times of the year, months, weeks, or days of the week when you see an increase in dining traffic. For example, if you own a Mexican restaurant, Cinco De Mayo will be a busy day. If you live on Cape Cod, you will most likely see an increase in business during the summer months.
Okay, I know I'm stating the obvious, but the point is that you need to plan for these seasonal peaks far in advance! If this planning component is overlooked, you will most likely not have enough time to get the most out of your Facebook ad strategy.
9. Make use of ad scheduling
Speaking of planning, Facebook's ad scheduling tool makes it extremely simple to schedule your posts ahead of time. This will ensure that you complete tip #7 before things get out of hand.
You can use Facebook's ad scheduling tool to specify whether you want to bring in diners with peak weekday deals (Taco Tuesday? Thirsty Thursday?) or just specific weeks or hours of the day when you want your ads to appear.
But what if you're not sure when to show your ads to potential diners? HubSpot recommends posting content on Facebook at 3:00 p.m. on Wednesdays, 12:00 a.m. to 1:00 p.m. on Saturdays and Sundays, and 1:00 to 4:00 p.m. on Thursdays and Fridays. This could be a starting point.
But always consider your specific dining audience to determine an appropriate schedule. If you're not sure, run your ads at all hours and look at the statistics to see when your audience is most active.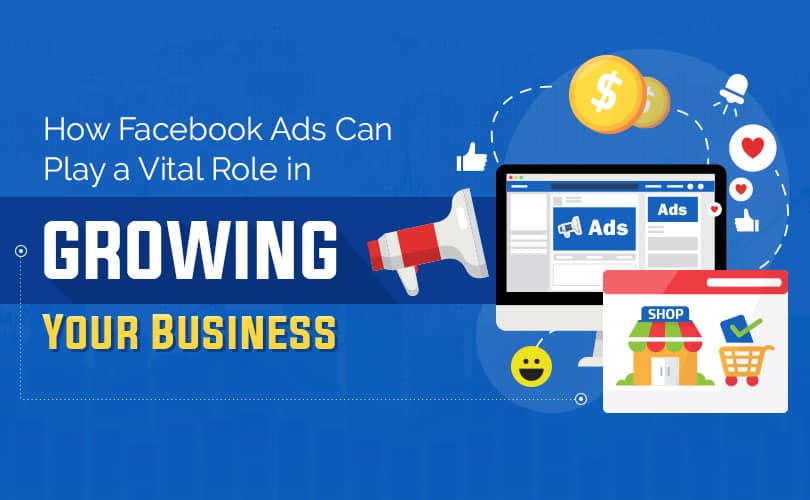 10. Discuss your one-of-a-kind dining experience.
What distinguishes your restaurant? If you work in the restaurant industry, it is critical to have something that distinguishes you! Is it your James Beard Award-winning chef who welcomes each table? Perhaps it's your dining room's fun family-style that makes everyone feel at ease? Show it off in your Facebook ads, whatever it is!
11. Show that your diners are happy.
Hopefully, your diners are pleased! If they are, you should take advantage of it. After all, customer feedback isn't just for Yelp! If you can get some photos of your happy diners enjoying your food and having a good time (with their permission, of course), it will inspire others to do the same.
In conclusion,
Facebook ads for restaurants are effective.
Because of the high level of competition, being a restaurant marketer can be extremely challenging, but it can also be extremely creative and fun! Allow your creative juices to flow directly into Facebook, and you'll be enticing more and more diners to come to grab a seat at your table.